SONS OF CONFEDERATE VETERANS
SONS OF CONFEDERATE VETERANS
I enlisted as a charter member of the BROWN-HARMAN NIGHTHAWKS CAMP 1573 in TAZEWELL, VIRGINIA IN 1991. Soon there after I became a LIFE MEMBER OF THE SCV.
PROCLAIM YOUR SOUTHERN HERITAGE !! JOIN THE SONS OF CONFEDERATE VETERANS !!
E-MAIL ME, MY ADDRESS IS ON THE HOMEPAGE. I WILL HELP YOU GET IN CONTACT WITH AN SCV CHAPTER NEAR YOU. GENEALOGISTS WITHIN THE SCV WILL HELP YOU FIND YOUR ANCESTORS.
ONE OF MY FAVORITE ACTIVITIES IS PRESERVATION OF OUR HEROES FINAL RESTING PLACES. I BELIEVE THAT THIS IS ESSENTIAL, FOR JESUS SAID, "NO GREATER LOVE A MAN HAS THAN TO LAY DOWN HIS LIFE FOR A FRIEND."
MY FAMILY HAS PRACTICED THIS PRINCIPLE. SINCE THE REVOLUTIONARY WAR THEY HAVE FOUGHT AND DIED FOR THIS COUNTRY, AND THEIR FELLOW MAN. I AM DEEPLY AND PROFOUNDLY HUMBLED TO HAVE DESCENDED FROM GREAT CHRISTIAN WARRIORS. I AM VERY PROUD OF MY GRANDFATHER LUTHER JAMES HOWERY, MY FATHER BOBBY GENE HOWERY, SR., MY WIFE, TUJWANA LaDONNA HOWERY AND ALL OF MY CHILDREN FOR THEIR EFFORTS IN PRESERVING THE GRAVES OF OUR HEROES, AND SOUTHERN HERITAGE. I AM TRULY BLESSED BEYOND COMPREHENSION. THANK YOU VERY MUCH.
SCV MEMBERSHIP HAS BECOME A HOWERY FAMILY TRADITION. MY FATHER BOBBY GENE SR., MY SELF BOBBY GENE JR., AND MY SONS, BOBBY GENE III, AND DENNIS WADE STONEWALL HOWERY ARE ALL MEMBERS OF THE SCV. I HAVE COMPILED A BOOK OF OUR FAMILY HISTORY. PLEASE CONTACT ME IF INTERESTED !!
BE SURE TO CHECK OUT MY PHOTOS. THERE YOU WILL SEE PICTURES, INFORMATION, AND ROSTERS OF HOWERY'S WHOM SERVED IN THE CONFEDERATE ARMY.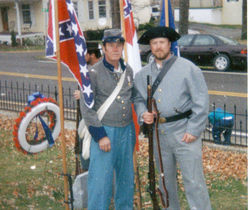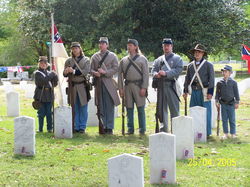 THE LAST THREE......THE HOWERY FAMILY......BOBBY GENE JR., BOBBY GENE III, and DENNIS WADE STONEWALL HOWERY.
The photo above was taken on April 25, 2005. The color guard along with armed Confederate troops prepare to fire a salute for our Southern Soldiers. This day we celebrated Confederate Decoration Day, which was the beginning of Memorial Day in the United States. The location is Friendship Cemetery in Columbus, Mississippi where on April 25, 1866 ladies in Columbus decorated the graves of fallen Confederate and Union soldiers. These soldiers were mostly dead and mortally wounded from Shiloh Battlefield. The battle took place at Shiloh Church in Tennessee on April 6-7, 1862. The act of remembering both sides by these ladies led to Columbus, Mississippi being known where, "flowers healed a nation." I along with my family were and still are very proud to have been a part of this historical act.
BOBBY GENE HOWERY, SR. and BOBBY GENE HOWERY, JR. at MEMORIAL DEDICATION for a CONFEDERATE SOLDIER in TAZEWELL, VIRGINIA.
The photo above was taken during a Confederate Headstone Memorial Dedication in the Town of Tazewell, Virginia. This ceremony held at Jeffersonville Cemetery is but one way we as "Grandsons of the Southland" perpetuate and remember our Southern Heritage. Graves of soldiers North and South are marked by members of the SCV, and other Heritage organizations. Several generations gather to pay homage to our heroes as was the case with my grandfather, Pvt. DENNIS S. HOWERY, SR. of Co. K. - 45th VIRGINIA INFANTRY, C.S.A. Other activities within the SCV include preservation of southern symbols, such as monuments and flags. Genealogy and family histories are recorded and passed down from generation to generation. There are efforts being made to save our national treasures such as battlefields and other significant sites. I am proud of the fact the SCV came to the defense of our Mississippi Flag during the latest assaults upon our heritage by the NAACP. On the lighter side we have a great time preserving our heritage by engaging in Living History Programs and Re-enactments. I am extremely proud and honored to speak of my Confederate Ancestors, and the Sons of Confederate Veterans. I pray that the Blessings of Almighty God be upon our organization and our country in these uncertain times we live.
LT. JOHN SALLIS CAMP 1776 TREMONT, MISSISSIPPI
CAMP 1776 - TREMONT, MS. meets at 6pm., every 2nd Saturday night of the month. Supper is at 6pm., and the meeting follows there after. The camp is currently meeting at THE COUNTRY GENTLEMAN FISH & STEAK HOUSE in FULTON, MISSISSIPPI. The restaurant is located south of Fulton off of highway 25, approximately a couple of miles then take the sign to the left.