MY SCV CAMP !!
GEN. ALBERT SIDNEY JOHNSTON CAMP 1660 - CORINTH, MISSISSIPPI
MEETS 3RD MONDAY AT SHONEY'S
CALENDAR OF EVENTS
OUR NEXT MEETING WILL BE IN NOVEMBER, THE 17TH !!
OFFICERS WILL BE ELECTED !!
WE WOULD LIKE TO WELCOME OUR NEWEST MEMBER, HERMAN POTTS OF NEW SITE, MISSISSIPPI !!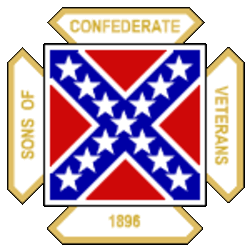 OUR MEMBERS
CLEVELAND, CRAIG WEBSTER M.D.
CLEVELAND, KERRY OWEN M.D.
COLE, JAMES M.D. --- ASSOCIATE MEMBER
CORLEY, JAMES H. -- COMMANDER
ESTES, BILLY WAYNE
FORTENBERRY, DALE B.
HATHCOCK, JIMMY RAY
HEDGES, VAN ELLIOT
HOWERY, BOBBY GENE III
HOWERY, BOBBY GENE JR.
JACKSON, WILLIAM GILBERT M.D.
LEE, ROBERT CARNELL M.D.
MANGUS, LARRY Ph.D. --- ASSOCIATE MEMBER
MORGAN, ROBERT CHRISTY -- ADJUTANT
SANSOM, ROBERT GUNN JR. Ph.D.
SIMMONS, FRANK JR.
STRICKLAND, WILLIAM JR.
THOMPSON, CLARENCE BROCK
WARD, DENNIS E. M.D.
PO BOX 72, MANTACHIE, MS. 38855
Links to Other Sites