CONFEDERATE SOUTHERN AMERICAN & SCV LIFE MEMBER SINCE 1991
MY NAME IS BOBBY GENE HOWERY, JR.
I WOULD LIKE TO SHARE WITH YOU THE THINGS THAT MEAN THE MOST TO ME.
GOD, FAMILY, COUNTRY, AND MY SOUTHERN HERITAGE !!
THIS SITE WAS UPDATED ON NOVEMBER 12, 2008 !!
CALEB HOWERY NOW HAS A JOB. SHE WORKS FOR A RESTAURANT, MAKES FOOD, AND TAKES MONEY.
E-MAIL ME PICTURES OF YOUR CONFEDERATE ANCESTORS, AND I WILL POST THEM ON THIS SITE !! SEND PICTURES OF THEIR GRAVES TOO.
CONGRATULATIONS TO MY DAUGHTER, ANEISHA AND HER HUSBAND TRAVIS CHANDLER ON THEIR WEDDING DAY 8-08-2008 !! WE LOVE YA'LL!!
CLICK ON LINK BELOW FOR ADDITIONAL WEBSITE!!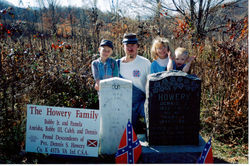 PVT. DENNIS S. HOWERY, SR. - CO. K. - 45TH VIRGINIA INFANTRY, CONFEDERATE STATES OF AMERICA. HE WAS BORN IN FLOYD COUNTY, VIRGINIA IN 1826. HE DIED IN TAZEWELL COUNTY, VIRGINIA IN 1902. WE ARE AT HIS GRAVE WHICH WAS PART OF HIS FARM IN THOMPSON VALLEY, VIRGINIA.
MY IMMEDIATE FAMILY MEMBERS , MY CHILDREN ARE :
ANEISHA HOWERY OF BIG STONE GAP, VIRGINIA,
BOBBY GENE HOWERY, III,
CALEB LAKEN WINTER HOWERY, and
DENNIS WADE STONEWALL HOWERY.
JOHN 3: 16 JESUS LOVES YOU
THROUGHOUT THIS SITE YOU WILL FIND ICONS OF SOUTHERN HERITAGE. PHOTOS OF SOLDIERS AND GRAVES ARE WONDERFUL INSIGHTS TO OUR PAST. MY OBJECTIVE IS TO HONOR AND PERPETUATE THE WORLDS GREATEST SOLDIERS. FOR THEY HAVE WON GLORIOUS IMMORTALITY IN THE HEARTS OF EVERY TRUE SOUTHERN MAN OR WOMAN. I HAVE THE HONOR OF DISPLAYING TIDBITS OF HISTORY ABOUT MY CONFEDERATE ANCESTORS. I HOPE YOU ENJOY MY SITE.
SITE VISITORS
PLEASE SIGN MY GUEST BOOK, AND THANK YOU FOR VISITING MY SITE. THE HOWERY FAMILY.